The world's biggest online art class: From smashing a world record to raising £50k
Driven by Founders Pledge members Sam Barnett and Sebastien Blanc, the class broke an art world record and raised thousands of pounds for COVID relief.
On May 21, 2020, children and adults around the globe grabbed a box of crayons and gathered online to attempt to break a Guinness World Record. A total of 10,000 participants were needed to smash the record for the world's biggest online art lesson and an incredible 45,611 people tuned in. Not only that, the initiative raised £51,918 ($64,611) for high-impact organizations geared towards combating both the current and future pandemics.
The world's biggest online art class was the brainchild of Founders Pledge members Sam Barnett and Sebastien Blanc who set themselves the far-from-easy task of breaking an art world record while raising thousands of pounds for charity. Sam, Seb and an enthusiastic team of collaborators, including Founders Pledge, spread the word far and wide and signed up schools as ambassadors, which resulted in 70,000 people registering in time for the event – 20,000 signed up in the 24 hours beforehand.
The art lesson, a fun lockdown challenge aimed at both kids and adults, was led by award-winning children's illustrator and author Rob Biddulph, whose books include Odd Dog Out, Blown Away and Dog Gone. In a 30-minute online session, Rob showed us how to draw an adorable blue whale spouting a rainbow step-by-step.
But the lesson was about more than breaking records and drawing cute marine cartoons, it was also about raising money for a valuable cause. And that's where Founders Pledge comes in.
Raising almost £52,000 for COVID relief
The Founders Pledge research team put their heads together and came up with a shortlist of high-impact organizations (listed below) centered around COVID-19 relief and pandemic preparedness that, crucially, were able to absorb more funding. They aim to stop the spread of the virus, provide much-needed relief to affected communities around the world and better prepare us for future pandemics.
Stopping the spread
Gates Philanthropy Partners Combating COVID-19 Fund: A fund that focuses on advancing work in four crucial areas. The first three are research and development (R&D) of new diagnostic tools to help doctors identify cases of COVID-19, R&D of therapeutics by examining the potential of both new and already existing medicines, and R&D of a vaccine against COVID-19. The fourth focus point is protecting communities around the world who are particularly vulnerable to the effects of the pandemic. Donate here.
Providing relief to those suffering
Preparing the world for future pandemics
The Nuclear Threat Initiative (NTI)'s Biosecurity program: The NTI works to mitigate existential risks and the aim of its biosecurity program is to reduce the likelihood of future pandemics and better prepare us for when the next one strikes. Donate here.
Making history at home
The results of the art lesson – both in terms of the amount of money raised and the crushing of a world record – show that even when separated through lockdown, we can come together to achieve great things.
"Attempting - and succeeding at! - breaking the world record was a fun way to break lockdown boredom and help impactful charities get the funds they need to fight COVID," says Seb Blanc. "Building enough momentum in a short period of time to succeed seemed a bit daunting, but David and the FP team and community helped a lot, helping us get 45,000 participants - 4.5 times more than we had aimed for to break the record!"
If1 you'd like to see more creations from the event, or share your own with the world, search or use the hashtags #DrawWithRob and #ArtWorldRecord on social media. You can even award yourself with a snazzy certificate, available to download here.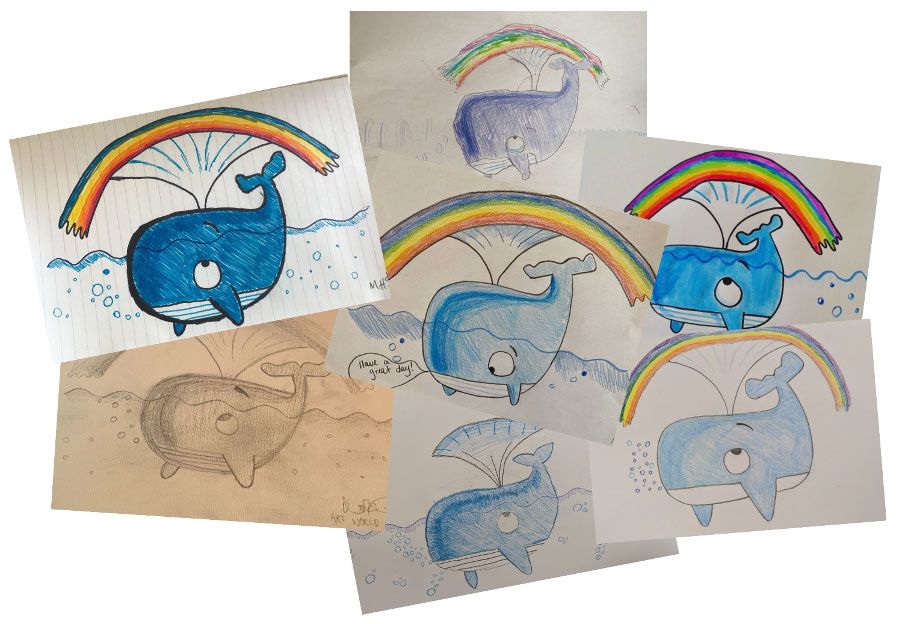 To find out more about where to give, how to stay informed, and what our members are doing to help tackle the pandemic, take a look at our COVID-19 resources page.
Notes
Odd Dog out by Sam Barnett ↩